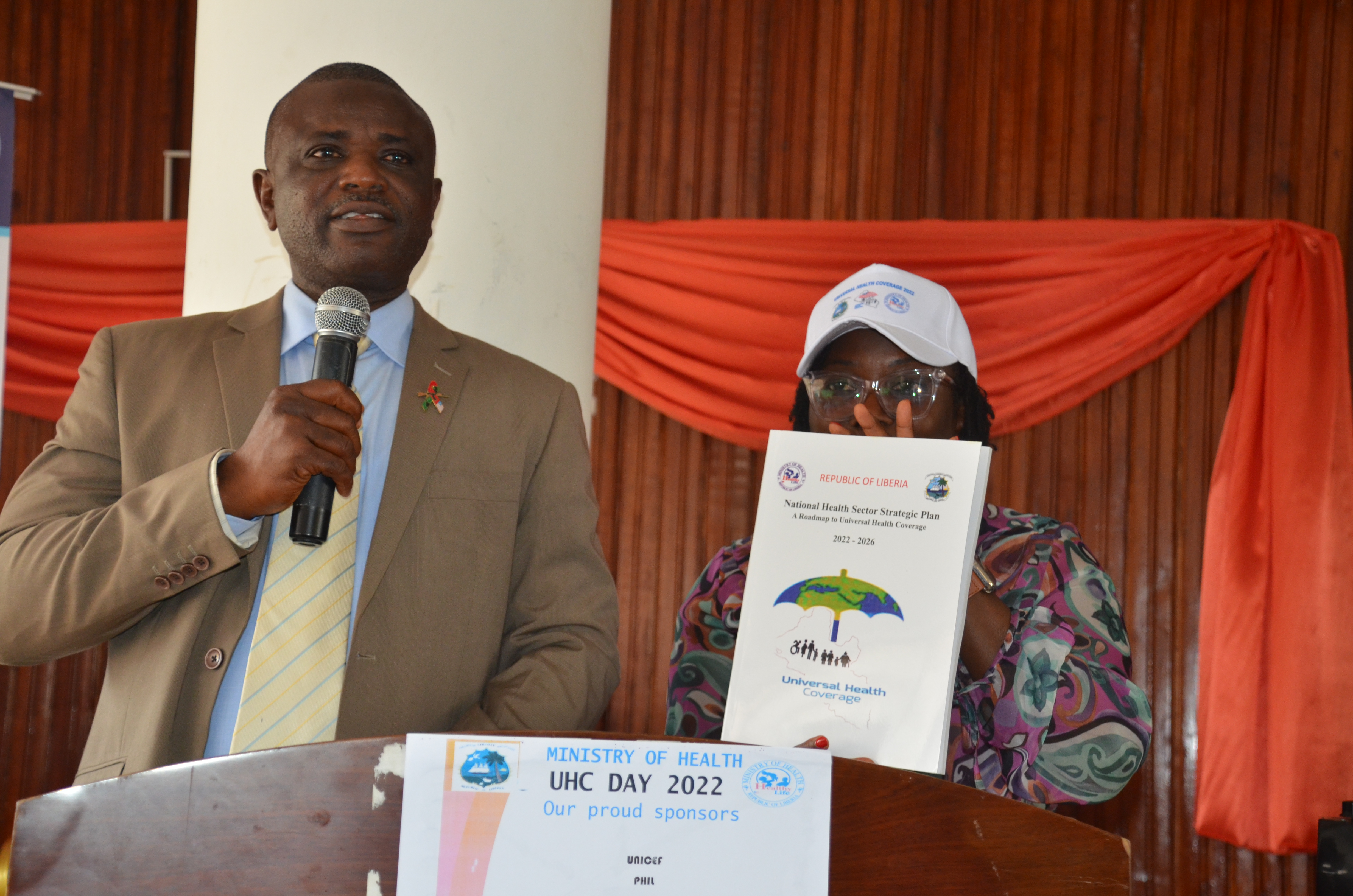 12th December 2022, Monrovia: Liberia joined the global community in commemoration of Universal Health Coverage (UHC) Day under the theme – Building the Liberia we want: A Healthy Future for All. Climaxing this important event, the country launched seven policy and strategic health documents as a demonstration of health and well-being being an essential priority for Liberia's development. The day began with a solidarity walk from Ministerial Complex to the Ministry of Health. During the official event held in the Ministry of Health conference room, the Deputy Minister of Health Norwu Howard, called on the nation to imagine a Liberia where everyone plays a role in making health for all a reality.
"Imagine a Liberia where an enabling environment exists with the right policies in place to ensure that all Liberians have access to the health services they need, when and where they need them, without financial hardship, from preventive care to treatment and rehabilitation to palliative care—this is what Universal Health Coverage is.", said Minister Howard.
Other stakeholders, including UNICEF and USAID, echoed the need to improve Liberia's health systems so that all people and communities have access to essential health care services when and where they need them without suffering financial hardship. This is a package consisting of preventive work, health promotion, and treatment across the life course.
Dr. Clement Peter, WHO Liberia Country Representative who was the key note speaker, reminded the audience that the COVID-19 pandemic served as a reminder to humanity that health and well-being are central to peace, development, and prosperity, and that lifting people out of poverty is critical in promoting the well-being of communities, families, and preventing public health crises. 
 "We live in a world where at least half of the people do not receive the health care service they need; around 100 million people each year are pushed into poverty because of out-of-pocket expenditures on health; nearly 930 million spend 10% of their household income on health care; and the situation in Liberia is not different, and the pandemic only bloated the reality. These figures are shocking and require urgent action if we want to build the world and the Liberia we want", said Dr Clement.
"The data before the COVID-19 pandemic in Liberia shows that access to healthcare services within a 5km walk was around 71% with 53% accounting for out-of-pocket expenditure. Only 3.8% of the population has some form of health insurance, 45% of women have problems accessing health care when sick, due to lack of money and walking long distances. Whilst acknowledging the challenges influenced by the COVID-19 pandemic, it is time to build resilient health systems, which will be the engine to deliver affordable and essential health services for all Liberians," said Dr. Clement.
He commended the government of Liberia for demonstrating an unwavering commitment to achieving UHC as the country launched some key policy and strategic health instruments in honor of the day.
In his conclusion, Dr. Peter called on political leaders to make smarter investments in health and encouraged partners and stakeholders to make commitments towards universal health coverage by 2030 –  with access to health services, financial risk protection, equity, and quality healthcare as key pillars in the pathway towards health for all Liberians and the Liberia we want.
"Equity is essential in achieving health for all, and health systems must work for all Liberians, regardless of where they live or their social or economic status; whether you live in Rivergee, Grand Cape Mount, Rivercess, Sinoe, or Nimba, you have the right to affordable and high-quality health care. Financial protection is key ", emphasized Dr Peter.
The indoor event was climaxed by the Acting Minister of Health, Norwu Howard launching the following policy and strategic documents; National Health Policy 2022-2031, Health Sector Strategic Plan (UHC Road Map) 2022-2026, Essential Package of Health Services II 2022-2026, Essential Package for Universal Health Coverage 2022, Respectful Maternity Care Strategy 2023-2027, National Policy On Medical Oxygen 2022-2031, National Clinical Guidelines for Hypoxia and Oxygen therapy 2022.
Every year on December 12, UHC Day is observed as a time to encourage decision-makers to invest wiser and move forward with initiatives aimed at achieving "Health for All." The emphasis of this year's theme is on the necessity of equity, trust, healthy surroundings, investments, and responsibility for the development of effective health systems. However, there are disparities in service delivery and financial hardship throughout the world, particularly in communities that are vulnerable and hard to reach. The celebration of Universal Health Coverage Day kicks off the UN General Assembly's high-level meeting on UHC in 2023 and the WHO's 75th anniversary of making health for all a reality.
When the 2030 Sustainable Development Goals (SDGs) were approved by the member states in 2015, achieving UHC was one of their core commitments. Countries reaffirmed that health is a prerequisite for, result of, and an indicator of the social, economic, and environmental components of sustainable development. By 2025, UHC is expected to benefit 1 billion more people, and the WHO's Thirteenth General Programme of Work also intends to protect 1 billion more people from health emergencies and improve 1 billion more people's health and well-being.