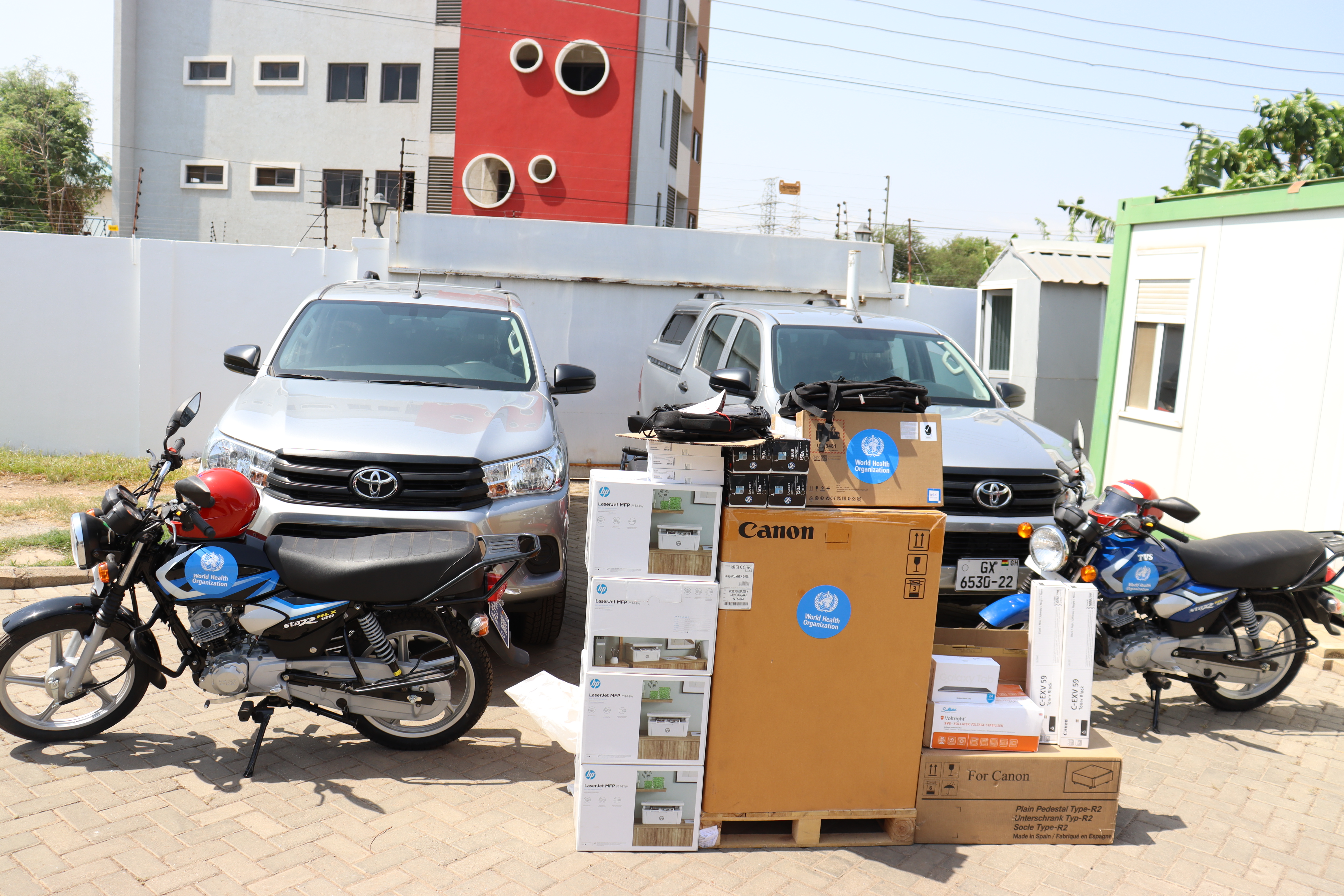 Accra, Ghana – The World Health Organization (WHO) with support from the Governments of the United States and Canada has presented vehicles and office equipment worth about 2.4 million Ghana Cedis to the regional health directorates of the six newly created regions in Ghana to facilitate the delivery of quality health service in all parts of the regions. 
The items, which included two pick-up vehicles, 102 Motorcycles, 204 Crash helmets, a multipurpose photocopier machine, printers and tablet devices are expected to compliment the government's efforts to enhance the capacity of the new regional health directorates to deliver on their mandate.
"We cannot accelerate the attainment of Universal Health Coverage and promote health security without strengthening the operations of the health officials to reach all communities," the WHO Representative in Ghana, Dr Francis Kasolo noted whilst presenting the items to the Ghana Health Service (GHS) in Accra. "That is why WHO is supporting with these items that are critical to delivering health service in these new regions who are still facing some logistical challenges".
Receiving the items on behalf of the Ghana Health Service, the Deputy Director General, Dr Anthony Adofo Ofosu underscored the critical need for the items and pledged the service's commitment to leverage them for improved health outcomes. 
"This donation has come at an opportune time when these new regions are still faced with many challenges. The items will be deployed to ease the burden of health authorities and improve health service delivery," Dr Ofosu added.
For the beneficiary regions, this intervention will transform the operations and service delivery of healthcare officials at both district and subdistrict levels.
"The donation will strengthen our ability to take health interventions to every corner of our region and ensure no one is left behind in access to quality healthcare," said the Deputy Director Public Health in the Ahafo Regional Health Directorate, Dr Ziem Bernard, after receiving a vehicle, motorcycles & office equipment for the Ahafo Region.
"This is a very timely support. It will not only facilitate our administrative work, but it will also help us deepen supervision to improve the quality of health services," the Deputy Director for Administration at the Oti Regional Health Directorate, Mr Damasus Ayangba also added.
This donation is the latest support WHO is giving to Ghana to strengthen the operations in the health sector towards improving the health and wellbeing of all Ghanaians and in so doing leaving on one behind.